BICYCLE ITINERARIES
T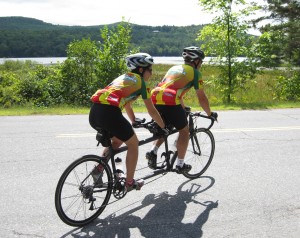 he Connecticut River Valley is well known for its ideal roadways for cycling. While three
itineraries are highlighted, there are many additional stretches of the Connecticut River Byway offering connections between Vermont and New Hampshire and all levels of experience and
endurance.
Safety Considerations
On any given day in Vermont or New Hampshire, your country road experience could include cars, trucks, farm tractors, and even the occasional farm animal or horseback rider. While sharing the roadway with other users, take the usual precautions for riding along the roadway – protective head and eye gear, knowledge of road safety rules, reflective gear, headlights, etc. While there are bike lanes in some locations, the majority of the Byway has paved narrow shoulders, which are often shared by pedestrians. Also, care must be used when crossing railroad tracks as bicycle wheels can be wedged between gaps.
In some areas, take the road less traveled for a scenic ride with low traffic volumes. However, use caution as these roads are often dirt or gravel with bumps in road surfaces, areas with loose debris and wild animals scurrying across the roadway.
Where can I stop on the way and access facilities?
The centers of towns and villages are often the best places to access bathroom facilities and water.
Where can I rent equipment?
There are a variety of bike shops which have equipment to rent and have great knowledge about local roads. Please check out local Chamber of Commerce websites for more information.
Other resources and websites to check out
For other bicycle routes in the Connecticut River Valley there are a variety of resources. Local bike shops and bike clubs often have very good information about local routes. Several bike tour operators also include parts of the Connecticut River Valley in their routes. Another resource to check out is the routes for some of the local bicycling events and trails, such as the Tour de Taste, Cross Vermont Trail, Tour de Heffer and Prouty.
Detailed maps can be found here. 
Vermont Specific Resources
"Cycling in the Kingdom" and "Cycling the Kingdom's Back Roads"
Northeast Kingdom Interactive Map
Southeastern Vermont
Vermont's Northeast Kingdom
Vermont State Roads and Trails Bike Map
Wells River to Lake Champlain
New Hampshire Specific Resources
New Hampshire Rail Trails
North Country Bicycling Itineraries
Upper Valley Trails