St. Johnsbury Historic Sites
Imagine your house filled with natural science and art collections so numerous that you open it to the community every Sunday for public showings, naming it the "Cabinet of Curiosities."  This was exactly what Franklin Fairbanks did in the 1880's. By 1889 his collection became so large that it no longer fit in his home and he commissioned Architect Lambert Packard to build the Fairbanks Museum.
The St. Johnsbury Athenaeum was commissioned by Horace Fairbanks as a public library in 1871, serving as a unique combination of library and art gallery for the St. Johnsbury community. Today, it stands as one of only ten libraries in the country to be designated as a National Historic Landmark.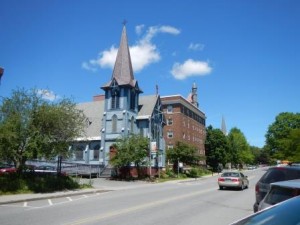 Located at the union of the Passumpsic, Moose and Sleepers Rivers, St. Johnsbury, nicknamed "St. J," is the largest town by population in the Northeast Kingdom of Vermont.  The St. Johnsbury Historic District is composed of two previously designated historic districts, the upper section of the village included within the St. Johnsbury Main Street Historic District, the lower section of the village which comprises part of the Railroad Street Historical District, and the street that links them together, Eastern Avenue.
During the 1800s, St. Johnsbury, Vermont was the central crossroads for a bustling north-south, east-west railroad industry, transporting passengers and goods from Boston to Quebec and Maine to Vermont.  As a result of the heightened traffic, commerce and prosperity, the St. Johnsbury Railroad Depot was built in 1883, as a commanding brick building, standing two and one half stories high and designed in a vernacular Chateauesque style.
Ben's Mill, previously known as Thresher Mill, operates as a museum of "living history," where all the woodworking machinery, which dates from the 1870s, is fully operational and powered primarily by the water powered turbine.  Located on West Barnet Road, Ben's Mill seeks to educate its visitors about sawmill and blacksmithing techniques of the past eras.
The Barnet Center Historic District is located along Highway 7, off of US Route 5.  This historic district is unique because it represents a small and rural 19th century church-centered community that has remained largely untouched by modern development and settlement patterns.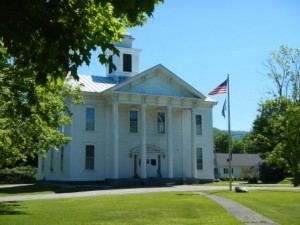 The McIndoes Academy, chartered in 1853, hails from a time in Vermont's history when establishing private educational institutions was a priority.  Located along Route 5 in the small village of McIndoes Village in Barnet, the Academy still stands proud overlooking a generous green and flanked by large maple trees.
Considered by some to be one of the grandest 20th century Federal buildings in New Hampshire, Littleton's U.S. Post Office and Courthouse is located on Main Street in the heart of the business district.
A unique Queen Anne styled gem, the Littleton Opera House, sits in its prominent location watching over Littleton, New Hampshire.  This impressive, late 19th century building is located at the corner of Main, Union and Cottage Streets and over the years has served many important cultural and civic roles.
A bronze statue of Pollyanna, the lovable "bright side of life" character penned by author Eleanor Hodgman Porter, stands tall with her arms outstretched, welcoming residents and visitors alike to Porter's hometown of Littleton, New Hampshire.

Thayers Inn can be found on Main Street in Littleton, New Hampshire.  Opened in 1850, the hotel was extremely successful and popular due to its popular location in the White Mountains and the high quality services provided to their guests.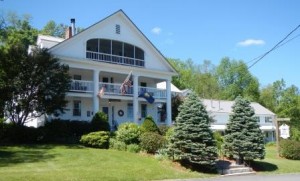 Lower Waterford Village, on the banks of the Connecticut River, is perhaps best known by its nickname, the "White Village," due to the fact that most of the early-20th Century buildings: a Congregational church, the Rabbit Hill Inn, a library, a few stores and over two dozen homes are all painted white.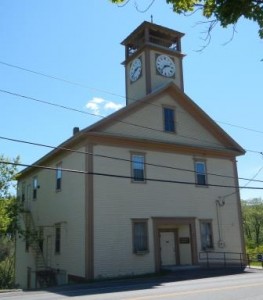 At the heart of every New England town sits the community's meeting house, town hall or church. To each community these gathering places hold their memories, heritage and milestones. The 1905 Concord Town Hall is one such building, located on Main Street in Concord, Vermont.