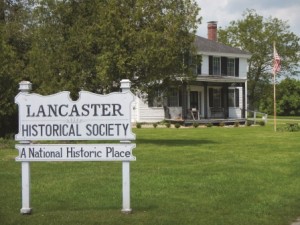 The Lancaster Historical Society is located at the Wilder-Holton House Museum, at 226 Main Street at the junction of US Route 2 and US Route 3 in Lancaster, New Hampshire. The Wilder-Holton House was the first two-story house built, and now the oldest standing house, in Coös County.
The Garland Mill is regarded as the only commercial sawmill in New Hampshire operating on waterpower and a rare example of the industry that thrived in New England during the nineteenth century.
The Weeks State Park, formerly the John Wingate Weeks Estate, is located off US Route 3 in Lancaster, New Hampshire. The Weeks Estate was added to the National Register of Historic Places in 1984, and The Weeks State Park is now maintained as a historic site and hosts various events and education sessions throughout the summer.
Standing as a proud symbol of Groveton's industrial past is Locomotive No. 5, built by the American Locomotive Company in 1918. Locomotive No. 5 was purchased by Odell Manufacturing Company as a "switcher" engine for their Groveton Papers Company at the end of World War II.
The Groveton Covered Bridge, built in 1852, is located in Groveton Village, in the town of Northumberland.  The 126-foot bridge spans the upper Ammonoosuc River and connects Route 3 in Northumberland to Route 110 in Groveton.
The 138-foot Stark Covered Bridge spans the upper Ammonoosuc River, links New Hampshire Route 110 and the local Northside Road, and is one of the best known and most photographed covered bridges in New Hampshire.
Construction of the Maidstone-Stratford Hollow Bridge, now known as the Janice Peaslee Bridge, began in 1893, making it the oldest bridge to cross the Connecticut River between New Hampshire and Vermont.
Maidstone Lake, created 12,000 years ago when glacial ice carved and then melted into a deep, clear and cold body of water, is surrounded by acres of remote boreal forest, brims with a wide variety of wildlife, and features Maidstone State Park, federally-designated on the National Register of Historic Places.

The Guildhall Village Historic District is located in Guildhall, which is the shire town, or county seat, of Essex County, Vermont, and hosts eleven significant buildings with the main focal point being the Essex County Court House.
The Rogers' Rangers Bridge, built in 1950, spans the Connecticut River between the towns of Lancaster, New Hampshire and Guildhall, Vermont.  The Bridge received its name to commemorate the militia group formed by the now-infamous, southern New Hampshire native, Robert Rogers.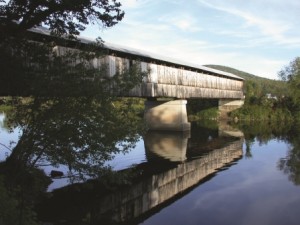 The Mount Orne Covered Bridge can be found spanning the Connecticut River between Lancaster, New Hampshire and Lunenburg, Vermont.  It is located west of New Hampshire Route 135 on South Lancaster Road, which is west of Lancaster Village.